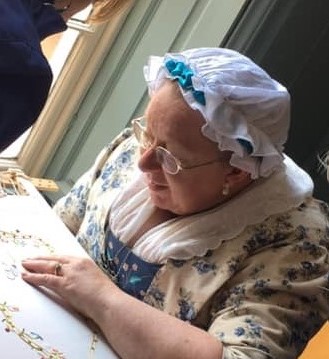 Learn Embroidery with Alison Larkin
"That's lovely, but I couldn't do it: I only do cross stitch".
How many times have I heard that?
Answer: Dozens, at least!

Learn with me to develop embroidery skills and styles which will give you a lifetime of creative enjoyment. You CAN do it!
Traditional Blackwork Embroidery
This type of embroidery has been popular since the 15-16th centuries. It was used for decorating everything from clothes and underwear to bed covers and hangings. Historically they were usually stitched in black or sometimes red thread.
The stitches used are a simple progression from cross stitch, but they have a scope and potential to produce hundreds of beautiful designs wihch can be stitched in black or colours to decorate all sorts of items for yourself and friends.
This course will start you on the road to learning this traditional style of stitching.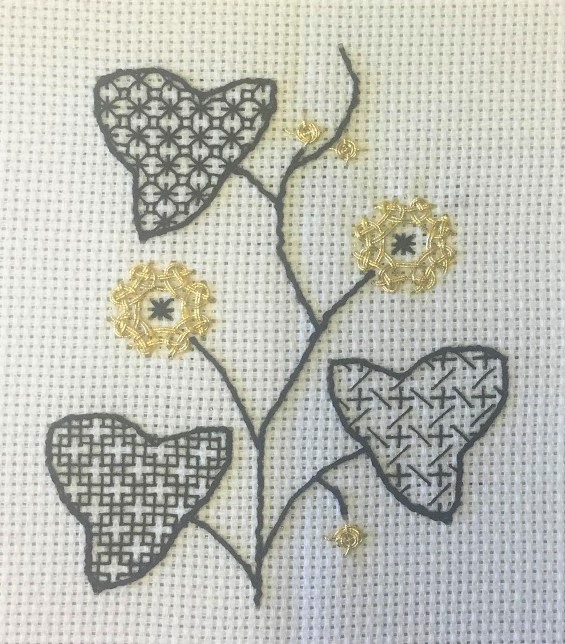 A simple kit in blackwork and gold thread, designed for a workshop, and using blackwork infill or diaper patterns This kit is available from my online shop.
THINGS YOU CAN DO WITH BLACKWORK!
Coloured blackwork block
Blackwork-style stitching in colours from a block sampler. Uses a range of motifs in Holbein stitch.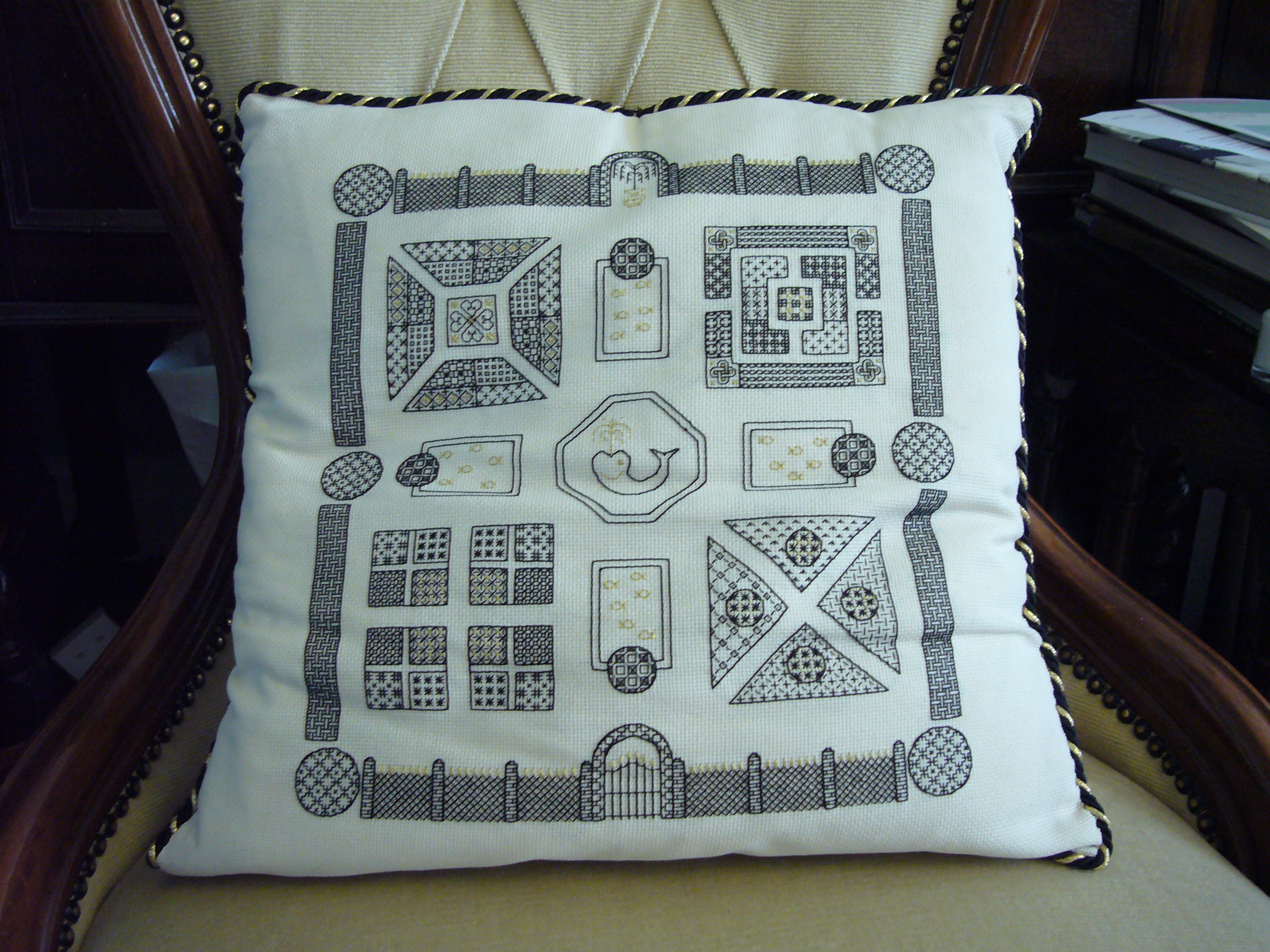 A larger blackwork design using black and gold thread in the form of a Stuart-period knot garden. It uses a range of ionfill patterns and outlines to make a stylised garden effect.
Alison Larkin, Embroiderer
After 30 years teaching Biology, mostly to adults, I left teaching in 2013 to work full-time in embroidery and costume. (I still pinch myself sometimes!) I specialise in historical hand embroidery techniques: my particular interest is the use of embroidery on dress for both men and women in the Georgian period.
During 2014-15 I worked on a project to create a replica of a waistcoat made for Captain James Cook by his wife during the 1770s, which was unfinished due to Cook's death in Hawai'i in 1779. 
In 2020 I published Jane Austen Embroidery with Jennie Batchelor, published by Pavilion Books in UK and Dover Publications in USA.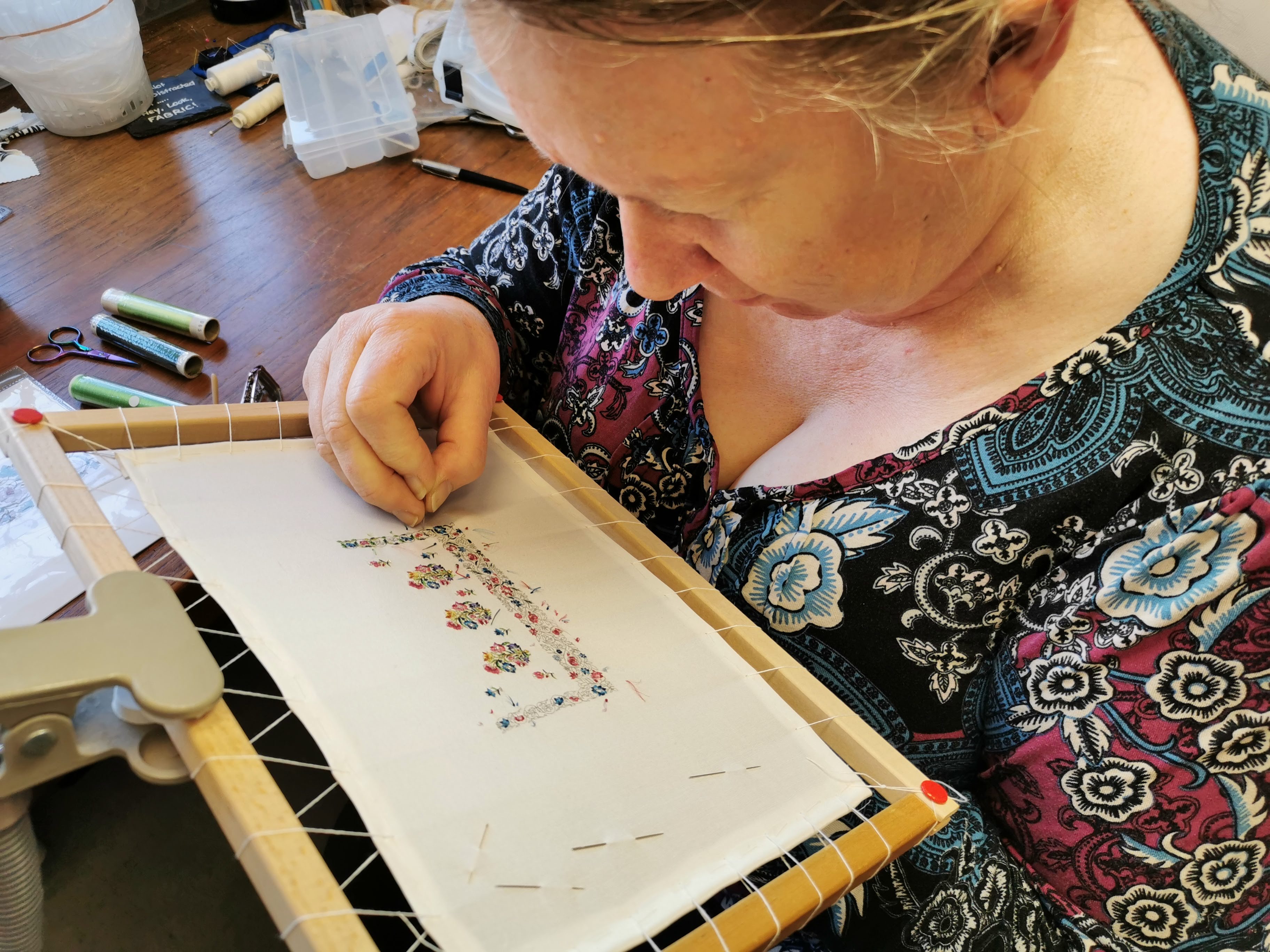 Check your inbox to confirm your subscription